The following methods may be used to produce vegetable pressing residues:

Cold and hot pressing (pressure filtration)
Cold pressing
: the starting materials for cold or expeller pre-pressing are oil seeds with a high oil content. Cold pressing (temperatures of around 40°C) produces high-quality oils, but the residues left behind still have a residual oil content of 15 – 25%. The term expeller pre-pressing is used because the residual oil content may be removed from the expeller pulp by hydraulic pressing, hot pressing or extraction. The residues which then arise during hydraulic pressing are known as "oil cake". Hydraulic expression produces larger pieces of oil cake than does cold pressing, the residual oil content amounting to less than 6%.
Hot pressing
(expeller final pressing): the starting materials for this process are either oil seeds with a low oil content or expeller pulp produced during cold pressing of oil-rich seeds. The pulped material is heated to approx. 70°C in final screw presses, so that more cells are macerated than during cold pressing. The residues arising are known as expeller, which has a residual oil content of approx. 5 – 10%.
Back to beginning

Solvent extraction
The starting materials for this extraction process are oil seeds with a low oil content or expeller pulp produced by previous cold or hot pressing. The oil is extracted from the rough-ground material by chemical fat solvents, such as hexane, leaving a residual oil content of only 0.5 – 1.5%. The residues are then known as extraction meal.
Once the fat has been extracted, the fat solvent is dissolved with naphtha. The solvent is removed from solvent-damp extraction residues in a toaster (desolventizer) using steam. After cooling and drying, it is then ground into meal. During drying, overheating may occur, which turns the product brown or even black.
Back to beginning

Pelletization
Pellets are produced from ground expeller or extraction meal. A suitable binder (usually fat) is often added and the mixture is pressed under high pressure in pelletizing machines or extruders to yield cylindrical forms (pellets). A distinction is drawn between expeller pellets and extraction meal pellets depending on their origin.
The following diagram shows the interrelationships between the individual manufacturing processes and resultant products: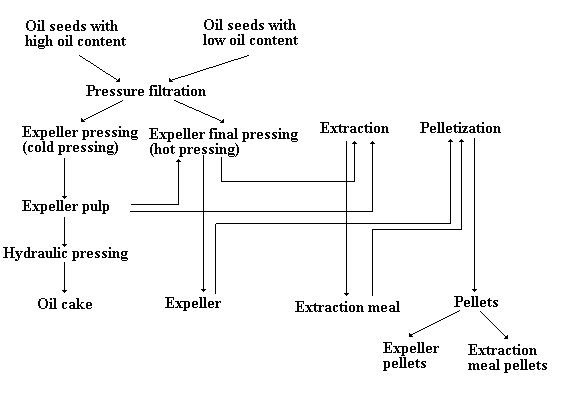 Back to beginning