Non-binding GDV publication
for optional use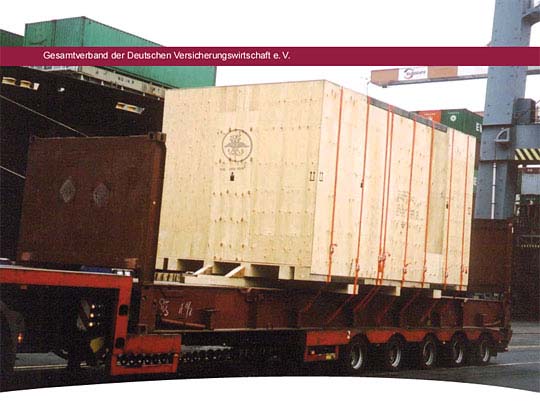 The contents and underlying academic research represented in this Handbook was drafted and arranged by the Institute for Consulting, Research, System Planning and Packaging Development and Testing (BFSV) at the University of Applied Sciences in Hamburg on the basis of a conceptual structure specified by the Marine Insurance Loss Prevention Committee.
Preface
With this Packaging Handbook, it is the intention of the Loss Prevention Committee of GDV's Marine Insurance Committee to provide the market and the transportation industry in particular with a freely available Guideline that takes into account the needs of practitioners and fully reflects the state of the art. 70 % of all transport losses can be avoided if proper loss prevention measures are taken. The aim of this Handbook is to provide a guideline for the construction of boxes and crates in order to minimize loss arising from inadequate packaging.
Very often, it is only such packaging that allows the goods that are packaged to be transported at all. Expert estimates indicate that 5-10 % of all insured losses on goods can be traced back to inadequate packaging. On the basis of statistics from the International Union of Marine Insurance – www.iumi.com – from the year 2000, this amounts to a sum between € 300 millions and € 600 millions. Such figures indicate the potential in loss prevention and the significance of packaging that is able to withstand the loads it is subjected to.
Transportation and storage, sometimes under extreme climatic conditions and on a wide variety of means of transport, result in stresses particular to such conditions. These stresses must be taken into account when designing the packaging. Any packaging must be configured in such a way as to withstand all the stresses that are to be expected throughout all the transport, storage and handling processes. Only in this way is it possible to ensure that the individual stresses that occur are diverted from the packaged goods. Certain concepts such as "seaworthy packaging" or "ordinary commercial packaging" have been used in reference to packaging. These concepts do not describe stress conditions, do not take account of the particular factors associated with the specific transport task and are not defined.
Duken, Uwe (AXA)
Fieberg, Roland (AXA Corso)
Schieder, Uwe (GDV)
Topp, Carl-Cornelius (AON)