Bunker on a sleighride
This concrete block weighed around 23 tonnes and was part of the roof of a bunker. It was transported on the loading area of this dump truck. To be fair to the driver, it should be said that the rear doors were closed during the journey. Other than that, this gigantic concrete block was secured primarily with air wedges. Another positive aspect was that the load distribution was at least taken into account and it would appear that the loaders probably placed the overall center of gravity of the load correctly.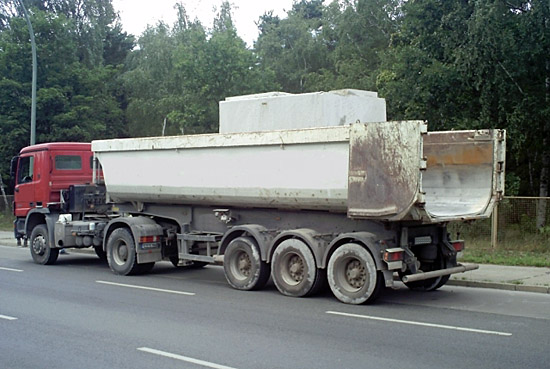 Figure 1 [Tom Bräutigam]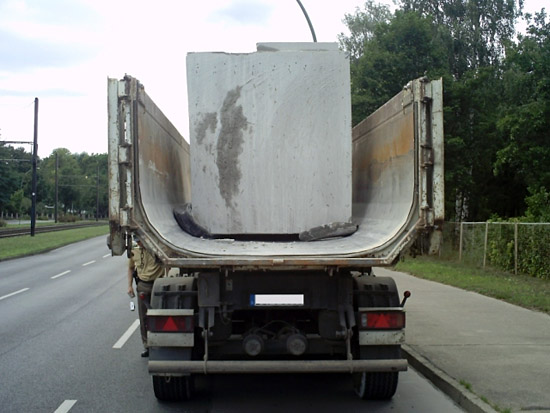 Figure 2 [Tom Bräutigam]
But that really is quite enough praise. First of all, the vehicle is entirely unsuitable and experienced load-securing columnists at least really can't see all that many options for changing or improving that situation. The attempt to secure this concrete block by using friction-enhancing materials is well-meant, but the thriftiness that we can see here could easily have cost the driver his life. The loaders seriously attempted to somehow increase the friction by placing the block on old car tires (and that in the curve of the truck's body as well). On the one hand, there was certainly still contact between the corner of the concrete block and the metal loading area and on the other, if the rubber tires had been subjected to high forces, they would have been rolled out like the pastry of a mince pie under a rolling pin. The rubble and pebbles on the loading area simply exacerbate the problems.
The only option here is to unload the block. If you then use a suitable vehicle such as a lowloader and place sandwich elements made from FE material, board-shaped wooden dunnage and another layer of FE material, even a gigantic load such as this can be secured excellently using chains, belts or wire ropes in the form of loop lashings.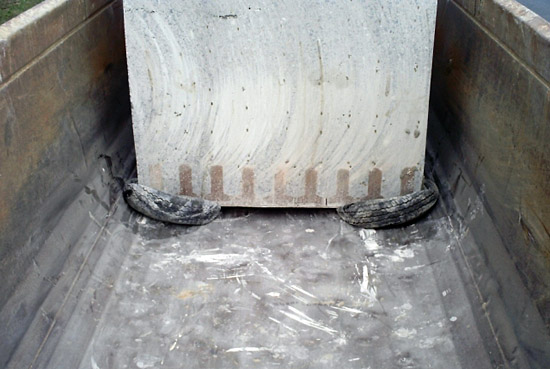 Figure 3 [Tom Bräutigam]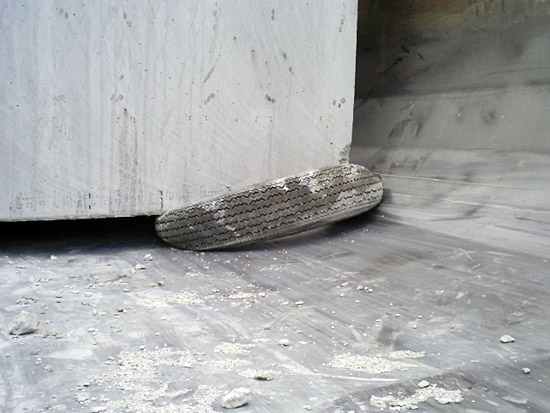 Figure 4 [Tom Bräutigam]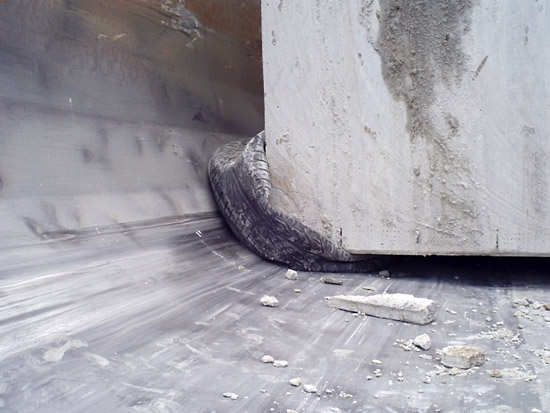 Figure 5 [Tom Bräutigam]
The last picture in particular clearly shows the marks where the rubber tires have slipped on the loading area. It is no longer possible to reconstruct whether these were caused during loading or as a result of the load shifting during the journey or during braking.
Back to beginning