Roof ladder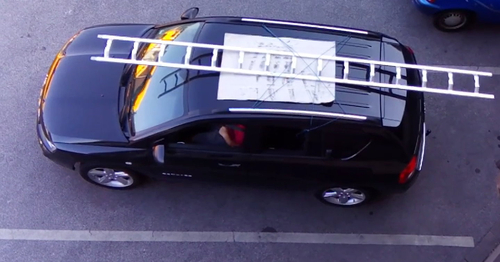 Figure 1 [Thomas Reuys]
One day, someone bought a roof ladder from a roofing supplies merchant.
The purchaser seems to have got the wrong end of the stick and placed the ladder on the roof as soon as he had bought it … on the roof of his car The sales staff were of the opinion that it would be better to place some cardboard underneath it and kindly supplied some. A couple of lengths of twine were then used to secure it.
The photo was taken from the balcony of a meeting room where a training course was taking place. Drivers from a roofing contractor were learning about "social legislation". They were treated to this spectacle during a cigarette break. Good advice from above was ignored.
So the only thing left to do was to wish the driver good luck.
Back to beginning
|
Previous Christmas special
|
Next Christmas special