Hammock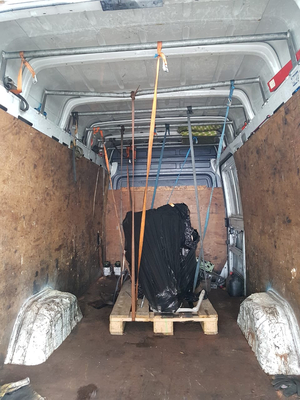 Figure 1 [Paderborn Police]
Usually, loads are tied down with lashings in order to secure them by increasing the friction between the load and the loading bed.
In this case, a different approach was tried, although it was certainly not a better one.
A machine component with a weight of 600 kg is on the loading bed. Four belts have been used to secure it. They have been passed around the pallets and then tied to bars under the roof of the vehicle. The belts will probably only temporarily be able to "make sure" that the machine does not tip over.
It looks like this approach is often used in this vehicle, as is evidenced by a very bent bar.
Back to beginning
|
Previous Christmas special
|
Next Christmas special