Ski jumping
This is the time of year for jumping. Having said that, we are usually watching skiing stars flying effortlessly through the air rather than loads making their ungainly way into the traffic.
And when a load parts company with a transport vehicle unintentionally, it is always a dangerous business, primarily for the driver. He is sitting in front of the load, which will slip in his direction when he slows down or brakes sharply.
And then there is the truck itself, which will be damaged when a load is lost.
The third party to suffer is the load, and in this case, it was a brand-new car.
And fourthly, there is the innocent third-party, who should really be top of the list. Fortunately, a third party is not always involved. But, depending on where the incident occurs, there is a relatively high probability that a bystander will be injured or at least in some way involved.
In this month's Photo of the Month, the load hits a part of the road set aside for pedestrians when the lights are red. Fortunately, there was nobody on the crossing at the time, so that the accident was not as bad as it might have been.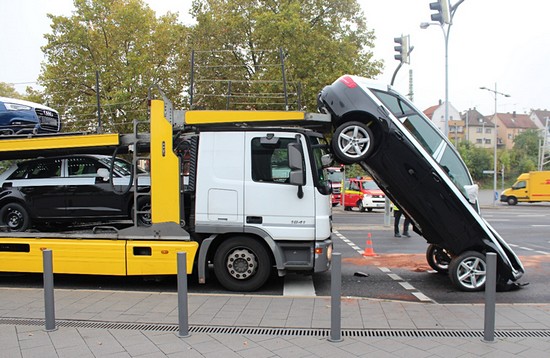 Figure 1 [GDV]
Whoever had ordered this car will now have to wait a little longer for their pride and joy.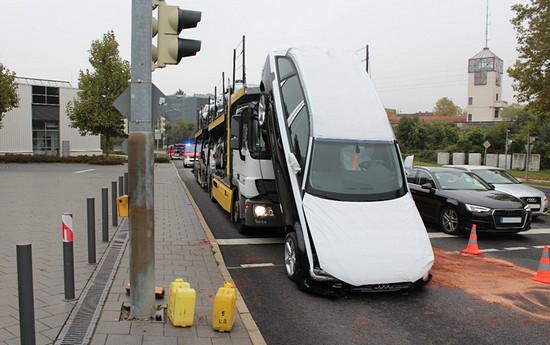 Figure 2 [www.stimme.de]
Nowadays, accidents such as these are a rarity. The reasons for this are the loading instructions issued by the carmakers and a VDI guideline specifically covering car transport. In this case, the applicable guideline is VDI 2700 Part 8.1, issued in 2009.
This guideline applies to all car carriers suitable for transporting cars, vans and minibuses up to a weight of 4 tonnes. The guideline is intended for drivers, vehicle owners, loaders and bodymakers. (Figure 3 shows the german text of the guideline. You can find the english version using the hyperlink below.)

Figure 3 [Wolfgang Jaspers]
Driver instruction for transportation of passenger cars and light
commercial vehicles not exceeding 4 t on special trucks (Transporters):


Figure 3 [Wolfgang Jaspers]