Particleboard bus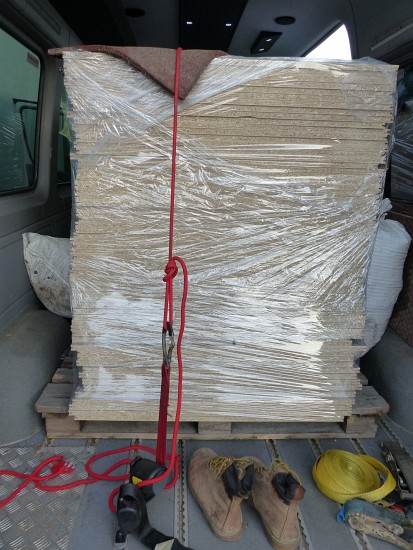 Figure 1 [Raymond Lausberg]
In Figure 1, we can see a cargo of particleboards that have been loaded lengthwise on two pallets in a van. So far, so good. However, we have to cast some doubt on the question of whether the weight in the vehicle has been distributed correctly and intelligently, because the particleboards, as can be seen in Figure 2, lack a tight fit at the front and considerable space has obviously been left between them and the rear door at the back.
What can be said with certainty is that the load securing is purely decorative. The purpose of the film that has been wrapped around the particleboards rather eludes us. It resembles more a maladroitly applied plastic wrap around a dish in the fridge than a genuine attempt to create a load unit. And the crowing glory is the highly creative tie-down lashing.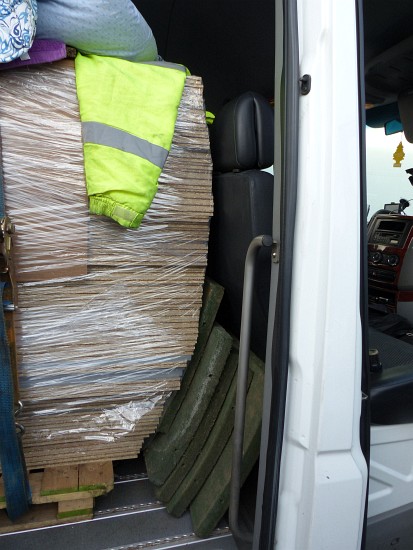 Figure 2 [Raymond Lausberg]
It is not difficult to see that the load has already moved forward a long way – fortunately without hurting anyone. But if the driver had had to brake hard in an emergency then the occupants would very probably have been injured.
The question of how to secure a load of this type correctly in a van is a tricky one. It is not possible to establish an effective tight fit at the front because there are no fittings, cross walls, load securing nets or similar equipment available for this. In this case, the cargo can also not be secured by friction because it is not present as a load unit but as loosely stacked boards that add up to a significant weight. The load is not secured at the sides, to the rear and most certainly not at the front. We therefore have to say that we do not believe that this type of slapdash "load unit" can be transported in a van at all. Even on a truck with a robust end wall, it would take a lot of work to secure the load correctly.
Back to beginning
|
Next Christmas special