The art of a million miles
As November tends to be a dull, gray month, at least in the Northern hemisphere, we thought we would use this Photo of the Month to enjoy an aesthetic interlude. On seeing the photo shown in Figure 1, we initially imagined that the collection of auto parts, primarily chassis parts, shock absorbers, brakes and even axles, were intended as a metaphor for the untold millions of miles traveled by the vehicles to which they once belonged. This pile of scrap is adorned with a decorative red belt and the way in which the parts are interlocked makes a striking statement: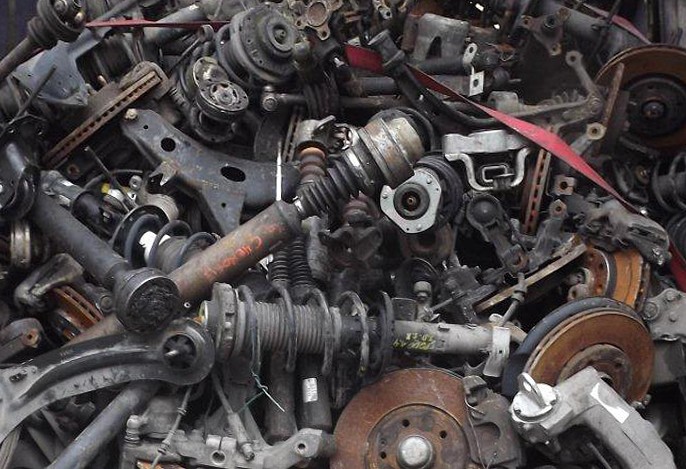 Figure 1 [Karl-Heinz Pachoinig]
But this would not be the Photo of the Month if we did not want to use it to address a problem in relation to load securing.
So we shall let the cat out of the bag and show our readers what this artistic creation really was. And yes, it is indeed a loaded cargo! Whoever opened up this vehicle would undoubtedly have been as astounded as we were to find a heap of scrap car parts piled up prettily in a curtainsider and "lashed down" with a couple of belts as if it were the most logical thing in the world: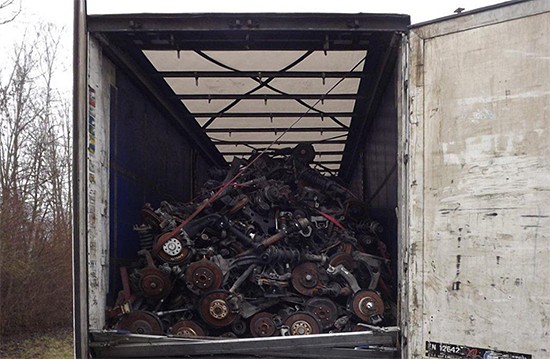 Figure 2 [Karl-Heinz Pachoinig]
Even if we run the risk of making this November's Photo of the Month the shortest ever, we found this effort so astonishing that we wanted to share it with our readers. And even the two removable slats placed in front of the rear doors to protect them from the cargo do nothing whatsoever to improve this load. Unfortunately, we do not know how many removable slats adorned the sides of the vehicle as the inspectors clearly did not dare ask the driver to open the sides or draw back the tarpaulins.
We can only guess what happened. The conscientious officer will undoubtedly have ordered a couple of skip trucks and arranged to have the load transfered.
But we really have to ask how anybody can be so thoughtless, indeed, almost to the point of contempt for other people, as to load a vehicle in this way to get from A to B. Any loader who allows this to happen should be reminded of their legal obligations in no uncertain manner. And the same applies to the driver as well, of course.
We want to take the opportunity offered by this Photo of the Month to make it clear to those responsible for ordering commercial vehicles that the decision as to which vehicle to order is likely to determine whether a particular cargo can or cannot be safely loaded and hence safely transported.
We wish you a safe journey!
Your Load Securing Team
Back to beginning