Roof garden

Figure 1 [Wolfgang Jaspers]
Every December, Christmas trees are transported from Denmark to the Sauerland and from the Sauerland to the Ruhr or over the border again. In short, they are moved back and forth across Germany in any number of different ways.
And only too often, too little thought is given to the fact that even Christmas trees weigh something and have to be transported safely.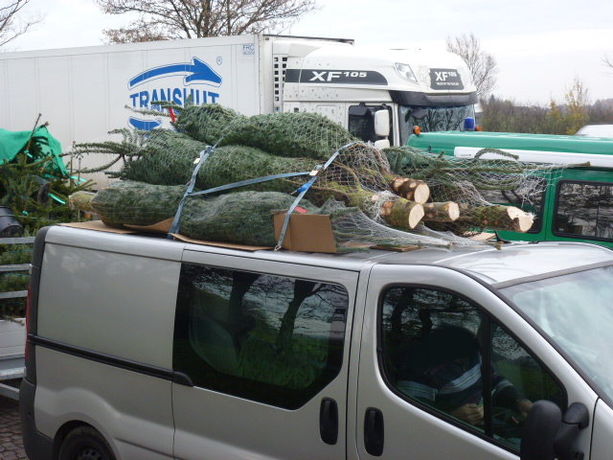 Figure 2 [Wolfgang Jaspers]
Each of the trees loaded in this picture weighs around 30 kg. They were placed on cardboard to avoid scratching the roof.
The roof of this van is designed for a load of 280 kg. But this load should only be applied to the frame of the vehicle, which can only be done with a roof rack.
But in this case, the 180 kg of the load itself is increased by lashing it down. But in reality, the trees were not lashed down hard, in order to avoid the risk of denting the roof. But this is not sufficient to increase the friction enough to ensure that the load stays in place if the driver has to brake suddenly.
Figure 2 [Wolfgang Jaspers]
We wish all readers and visitors a happy Christmas and a good start to the new year!
Your Load Securing Team
| | |
| --- | --- |
| [Uwe-Peter Schieder] | [Wolfgang Jaspers] |
Back to beginning
|
Previous Christmas special