Buy or rent?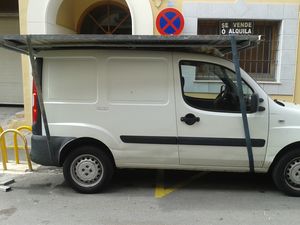 Figure 1 [Dieter Frantzen]
This question that can be seen in the background fits in well with the foreground.
We assume that the driver of this vehicle made a spontaneous purchase.
How else can you explain anyone imagining that they could transport a load like this on the roof of a small van?
There is no sign of a roof rack. A blanket or something similar has been placed under the garage door to prevent any damage to the paintwork. A decent tie-down lashing with high pre-tensioning forces would undoubtedly have damaged the door and the roof of the van, which is probably why this was not done. We are trying to imagine where the belts may have been attached.
Conclusion: At some point, someone came up with the idea of trucks for transporting big, heavy loads.
So use them!
Back to beginning
|
Previous Christmas special
|
Next Christmas special