Clean through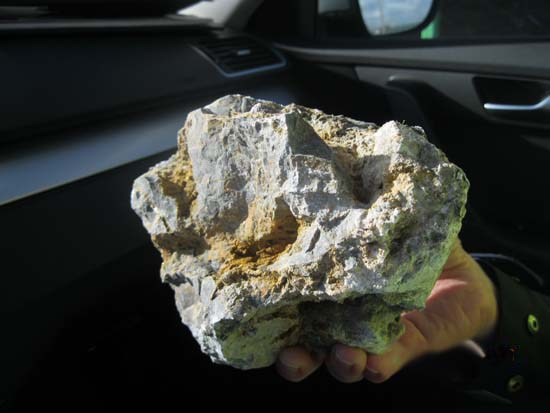 Figure 1 [Karsten Löhr]
This rock fell from a truck on the freeway. According to eyewitness statements, it flew across the central reservation, hit the road, bounced onto the hood of the vehicle, where it first penetrated the front windshield and then the rear windshield.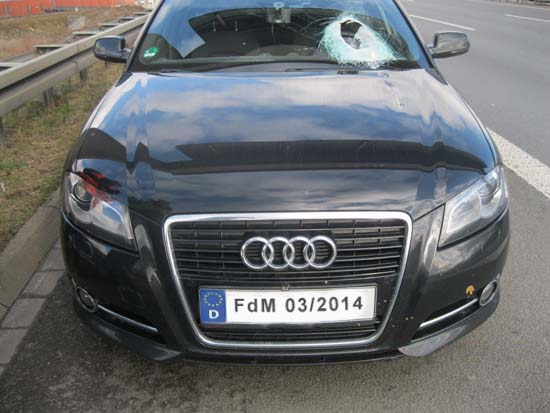 Figure 2 [Karsten Löhr]
Figures 2 and 3 clearly show the marks left by the rock. The fact that it did not leave a particularly large dent in the hood indicates that it was traveling on a very low trajectory.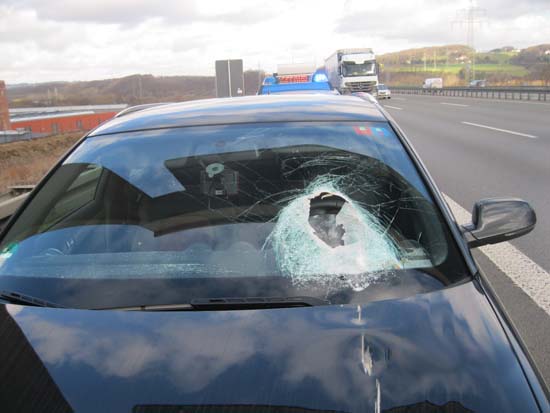 Figure 3 [Karsten Löhr]
It is something of a miracle that the driver escaped with "only" cuts to his face. It is probable that the dashboard deflected the rock, which penetrated the windshield like a projectile, so that it flew past the driver's head and out through the rear windshield.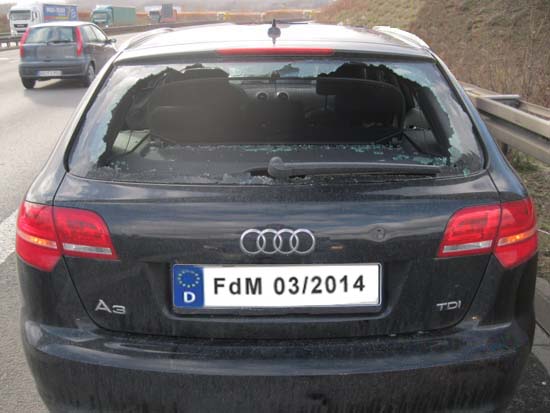 Figure 4 [Karsten Löhr]
The sheer force of the impact is indicated by the fact that the rock not only penetrated the front windshield, but also had enough energy to smash through the rear windshield. The speed of the rock was added to that of the car, and the car driver had no chance to brake. Perhaps he just had time to instinctively duck, which could well have saved his life. Who knows?
What we do know, however, is that cargoes without a great deal of value, such as building rubble, scrap, rocks and so on, tend to be poorly secured. But the risk they pose does not depend on their value, but rather on their weight and speed, among other things. Securing loads properly saves lives! Even if it is just a single rock that might fall from a truck. This photograph should be displayed prominently wherever there is a risk that those responsible for loading a cargo will not give enough thought to securing it.
In addition, it is worth looking at the administrative regulations in § 22 of the German highway code (StVO) for cargo, No. II:
Extract (unofficial translation):
I. Stowing cargo so that it is safe to be on the roads includes distributing the cargo in such a way that it does not impact on the safety of road users or the safe operation of the vehicle and stowing it safely, if necessary securing it, so that it is impossible for it to slip or fall from the vehicle.
II. Bulk cargo, such as gravel, sand or bundled paper, transported on trucks is generally only properly secured against falling from the vehicle if overheight side walls, tarpaulins or similar means are used to ensure that even insignificant amounts of the cargo cannot fall from the vehicle. ……
PS: Of course, light cargo also has to be properly secured, because even a polystyrene block that suddenly appears on the road can be a fatal hazard.
Your Load Securing Team
Back to beginning