A riveting display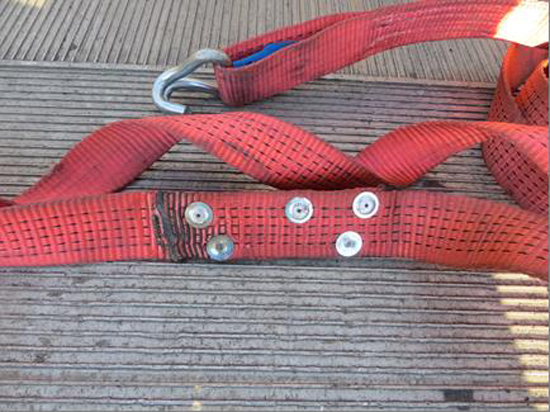 Figure 1 [Schmitz]
It is always annoying when, as shown here, belts that are still in pretty good condition are torn through carelessness. This can easily happen as a result of a steel plate, a sharp concrete corner or a hardboard sheet that has moved. And, inventive as people are, some rivet the belt, others bolt it together and yet others simply tie a knot in it.
Knots reduce the securing capacity of a belt to less than 30% of its original strength. Rivets, bolts and so on may look good, but they do not restore the belt to a usable condition.
If the belt has been cut through or if even 10% of its warp yarns have been damaged, it must be scrapped!
Screws, knots and rivets are sheer lunacy!
Back to beginning
|
Previous Christmas special
|
Next Christmas special