Roadhouse Blues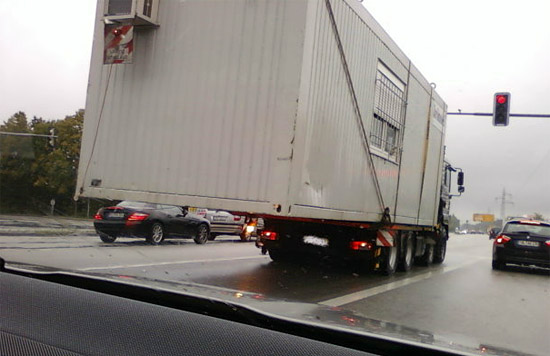 Figure 1 [Ruben Chemnitz]
The photographer did think this method of transport was rather strange Indeed, it doesn't look normal at all. We don't have any precise information. Markings are present. Markings that are clearly visible to the other road users, approximately 90 cm from the ground, are required here.
In addition, the distance the container overhangs at the back should be checked. If this distance is below 1.50 m, there would be no complaint. If the overhang is up to 3 m, the maximum distance the vehicle would be allowed to travel would be 100 km.
If, however, the overhang is greater than 3 m, special authorization must be obtained from the appropriate road traffic authorities.
But it is extremely important that the center of gravity of the load is approximately in the center of the loading area. If this is not the case, and the center of gravity is much further back, the vehicle can no longer be driven safely as there is insufficient load on the steering axle. The vehicle will be unresponsive.
And what about underrun protection?
There are many questions that cannot be answered on the basis of the photo alone.
Back to beginning