"Falling by the wayside"
The fall of the refrigerator shown below was a tragic event that happened at the height of summer this year.
A car driver wanted to transport the refrigerator on a small trailer. We do not know where he wanted to take it. Undoubtedly, it was not the intention of this thoughtless driver to simply dump it on the road.
But that is exactly what happened. The refrigerator fell from the trailer onto the road, where it stayed and became the undoing of a Belgian biker who was riding behind the car at just that moment.
The rider fell, and he and his bike were flung into the bushes by the roadside. The rider was seriously injured. Fortunately, the other bikers who were riding in the group were able to avoid the obstacle.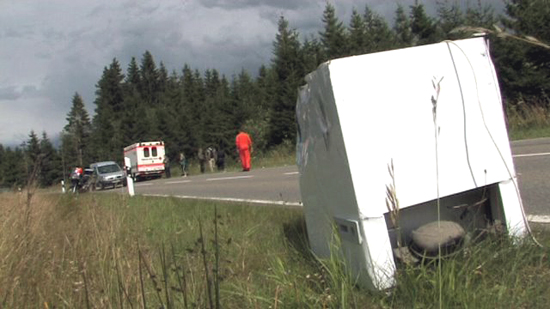 Figure 1 [NonstopNews]
The badly injured rider had to be taken to hospital.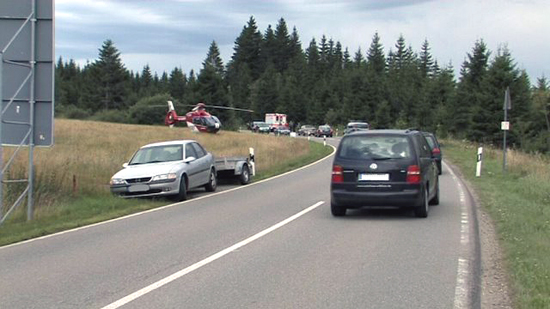 Figure 2 [NonstopNews]
The motorcycle (Figure 3) was badly damaged. The damage was estimated at around 17,000 euros.
Figure 3 [NonstopNews]
The refrigerator fell into the group of bikers from this trailer (Figure 4).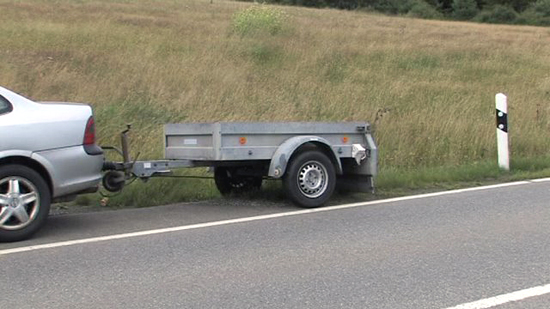 Figure 4 [NonstopNews]
So how did it come about that the refrigerator fell from the trailer? The driver had simply placed it on the loading bed and had not secured it at all. Not only that, the tailgate was not properly closed. During the journey, the refrigerator slipped against the tailgate under normal driving conditions (the driver had not braked sharply or taken any avoiding action). The tailgate fell open and the refrigerator rolled onto the road. Despite emergency braking, the biker had no chance of avoiding the obstacle.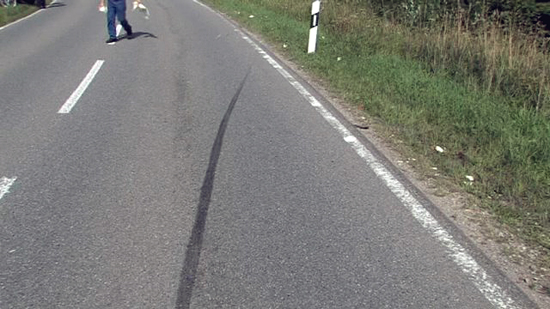 Figure 5 [NonstopNews]
Figure 6 [NonstopNews]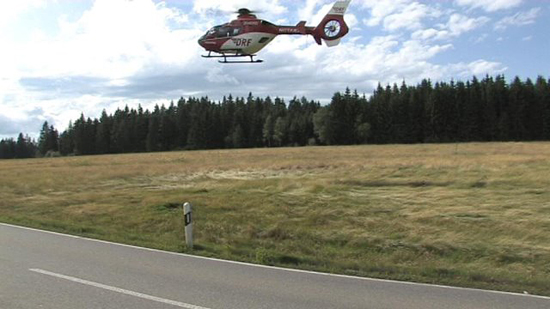 Figure 7 [NonstopNews]
It was a simple matter of time before the refrigerator fell from the trailer, but it would have been an equally simple matter to secure it properly.
First of all, of course, it is important to check the vehicle and trailer before setting out. This includes checking that the coupling is seated properly, that the lights are working correctly and that the tailgate is closed properly.
The loading area must be swept clean. Both to protect the refrigerator and to increase friction, an anti-slip mat (FE mat) should be placed between the refrigerator and the loading surface. The refrigerator should be placed on its side to keep the center of gravity as low as possible. It would be ideal to place the refigerator against the end wall at the front. Now, two tie-down lashings are all that is needed to hold the refrigerator in place.
In this case, the load was relatively light, and a little conscientiousness would have prevented it from becoming a dangerous obstacle, and the biker would have been able to spend a sunny weekend touring with his friends.
Back to beginning