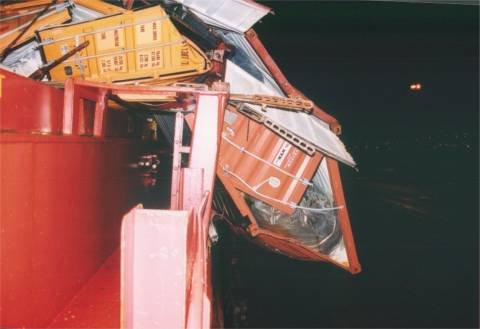 Figure 1 [Ewig NYC for HDI]
The worst nightmare of all seamen, transport insurers and leisure time captains. The latter fear the lost containers, that can often still be found floating in the sea days later, in much the same way as a vampire fears garlic. In this case, a ship traveling in bad weather in the North Atlantic lost a number of containers carrying wire rod coils. These would have sunk within minutes and thus have posed little danger to most leisure-time captains.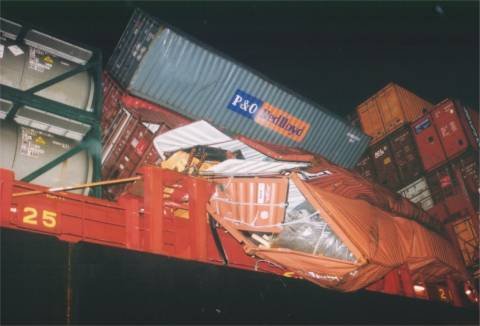 Figure 2 [Ewig NYC for HDI]
The second picture clearly shows other containers standing upright, both in front of and behind the destroyed container. This effectively rules out external influences, for example, breaking waves, as the cause of the incident.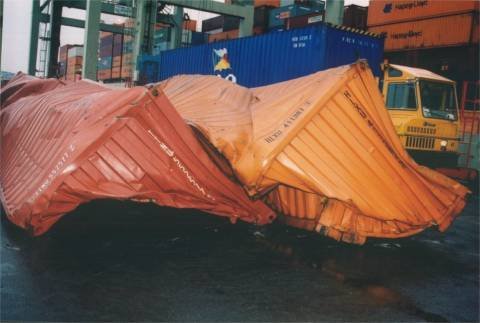 Figure 3 [Ewig NYC for HDI]
The design and stability of a standard container is such that they are able to withstand static loads. If the load being transported in a container is not properly secured, dynamic forces are 'produced' which neither the container nor the lashing system on the ship's deck can withstand.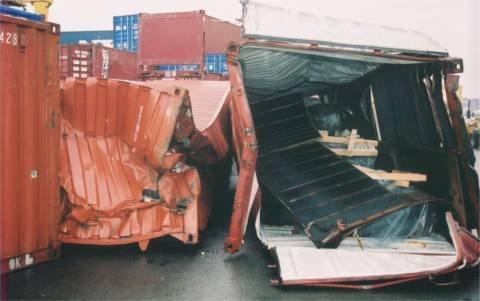 Figure 4 [Ewig NYC for HDI]
In reality this means: If wire rod coils are loaded into a container with considerable spaces and left unsecured to such an extent that they are able to move freely within the container, the load acts like a wrecking ball. The result: Completely destroyed containers, containers lost overboard and lost or destroyed cargo. The remainder of the cargo stored in the ruined container that could be unloaded was badly corroded and deformed.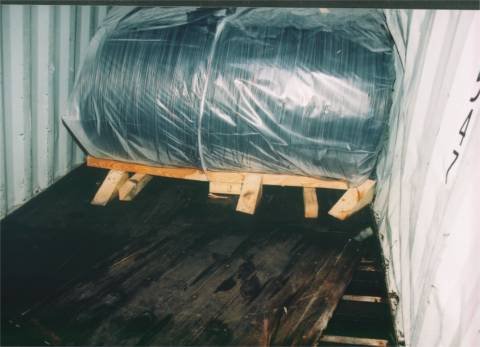 Figure 5 [Ewig NYC for HDI]
The container has been squashed from the side. The load securing measures consisted purely of three wooden wedges, no other measures were used. The apparent tight fit that can be seen here, is due to the squashing of the container.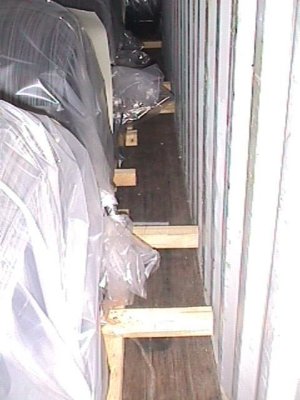 Figure 6 [Ewig NYC for HDI]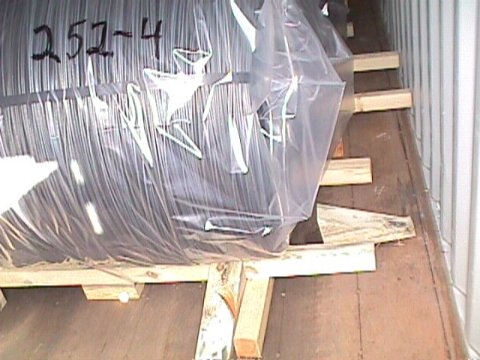 Figure 7 [Ewig NYC for HDI]
The wire rod coils were loaded alternately and only the last coil was 'secured' using the three (incorrectly cut) wedges mentioned above. As can be clearly seen from Figures 6 and 7, a gap half a meter wide runs along the side of the entire container. The load was able to move freely and did so, with the results described above. It is difficult to believe that a load could possibly be sent on its travels in such a way. Sending a load that is as badly secured as this one not only puts the load itself and other loads at risk, it also endangers the entire ship and with it the lives of the crew..
Containerhandbook:
Containerhandbook
>
5.2.14 Steel and metal cargoes
Back to beginning