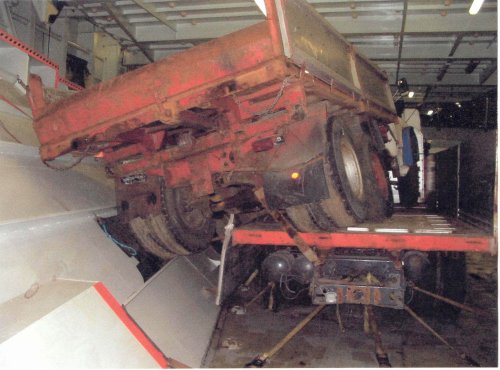 Figure 1
We have already reported on trucks stowed on top of one another in the
Photo of the month, June 2002
.
This time, used trucks were to be discharged from a ro-ro feeder, which wasn't as easy as it seemed.
The truck on top was only "secured" to the truck below with tie wire. The vehicles had apparently been transported in this way by road, and were delivered and loaded like this at the port. The lower vehicle was secured sufficiently on board. No additional securing measures were taken for the vehicle on top.
The tie wire was unable to withstand the stresses caused by bad weather over the Baltic Sea, which meant that the upper truck slid sideways against the ship's side. After the truck had slid, the ship's crew then provided additional lashing using belts.
For more information on safe transportation of motor vehicles, see the
Trucks
and
Automobiles
product pages.
Back to beginning